COVID-19 VACCINATION: CONSTRUCTION FAST LANES
In partnership with the BC Public Health Office, the BCCA and its partners have made available construction fast lanes at select vaccination centers around the province on specified dates between and times through June and July.
No registration or appointment needed, just show up at one of the locations listed below on any one of the dates identified. Government ID and Personal Health Number is not essential but recommended to get you through even faster.
*First dose only, wear your hard hat or bring your site access card or other construction ID.
LOWER MAINLAND: (June 24, 25, 30, July 8, 9) 1:30 to 4:30 PM
Vancouver – Italian Cultural Center (3075 Slocan St.)
Burnaby – Christine Sinclair Community Centre (3713 Kensington Ave.)
Abbotsford – Abbotsford Ag Rec (32470 Haida Dr., Building 1)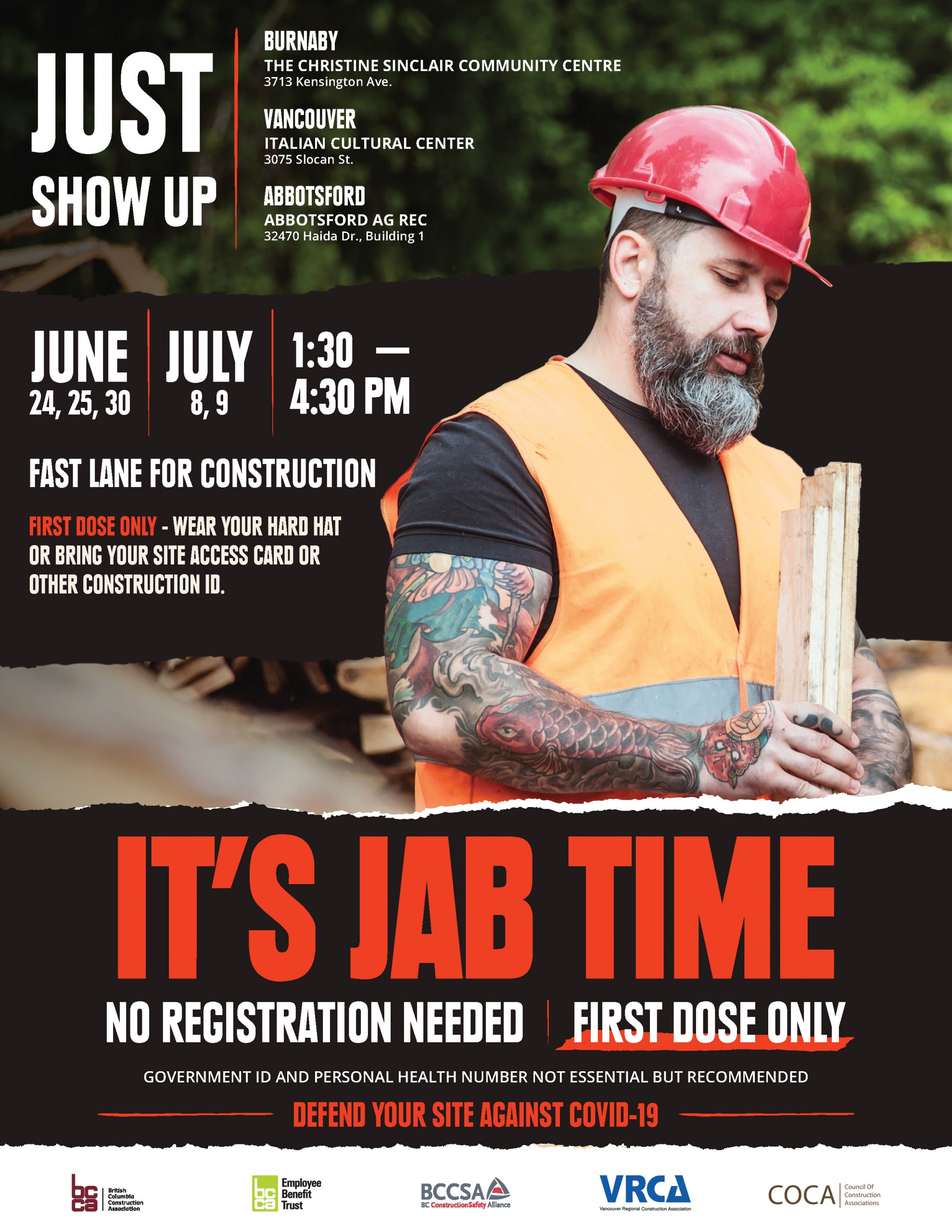 Just show up at any officially designated vaccination clinic. Most locations accept
drop-ins and have low wait times. Vaccinations are important to help defend our worksites &
communities from COVID-19. Please download and display the poster on your worksites and
spread the message to your crews to not delay and get vaccinated today!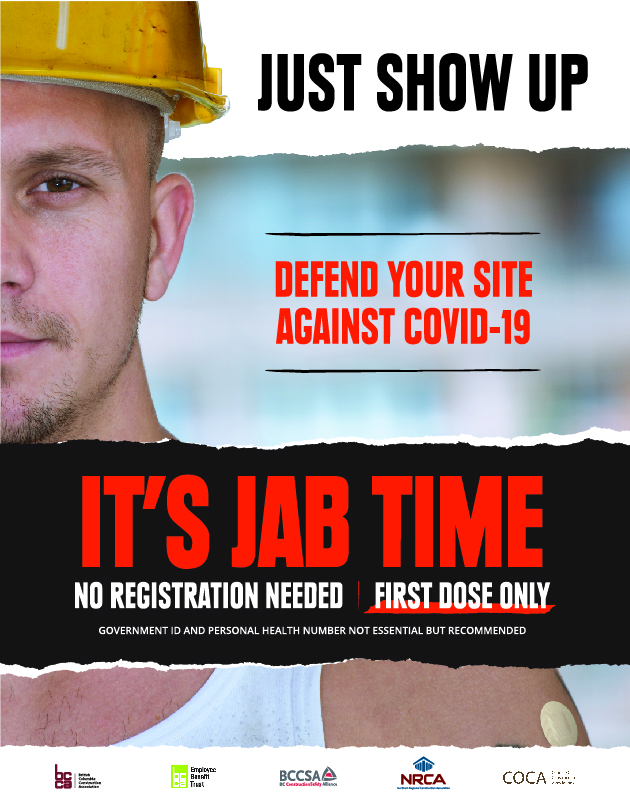 VANCOUVER ISLAND: (July 2, 8, 9, 15, 16) 1:00 to 4:00 PM
Campbell River – Campbell River Community Centre (401 11 Ave)
Courtenay/Comox – Glacier Gardens Arena (1399 Military Row)
Nanaimo – Woodgrove Centre (6631 Island Hwy)
Nanaimo – Beban Park (2300 Bowen Rd)
Langford – Eagle Ridge Community Centre (1089 Langford Pkwy)
Victoria – Archie Browning Sports Centre (1151 Esquimalt Rd)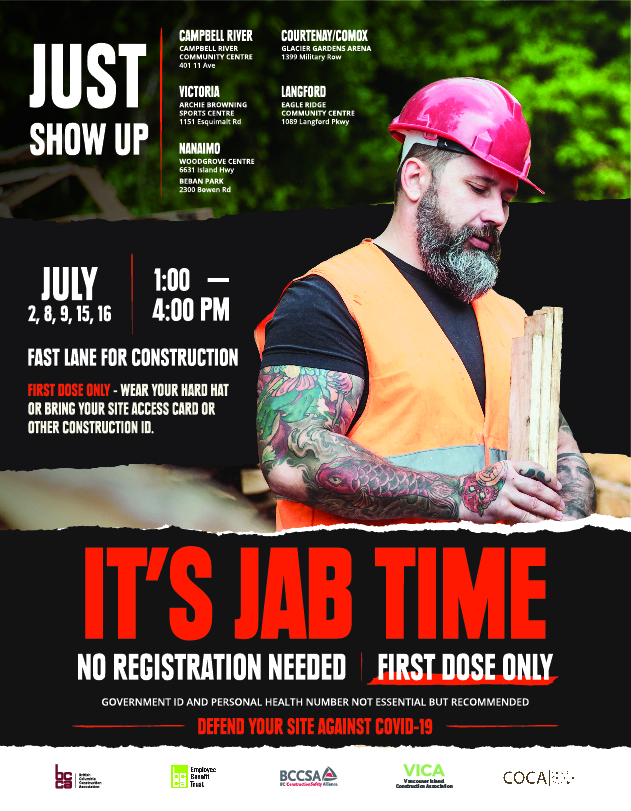 Kelowna – Trinity Hall (1905 Springfield Rd): 1:00-6:30 PM
Mondays to Thursdays – June 28-July 16
Vernon – Vernon Recreation Centre (3310 37th Ave): 1:30-4:00 PM
Tuesdays – June 29, July 6, July 13
Saturdays – June 26, July 3, July 10, July 17
Sundays – June 27, July 4, July 11, July 18
Kamloops –
McArthur Park Rec Area (1655 Island Pkwy): July 8-17
Tuesdays & Thursdays 3:30 – 5:30 PM & Saturdays 1-3 PM
Tournament Capital Centre (910 McGill Rd): June 27-July 7
Tuesdays & Thursdays 3:30 – 5:30 PM & Saturdays 1-3 PM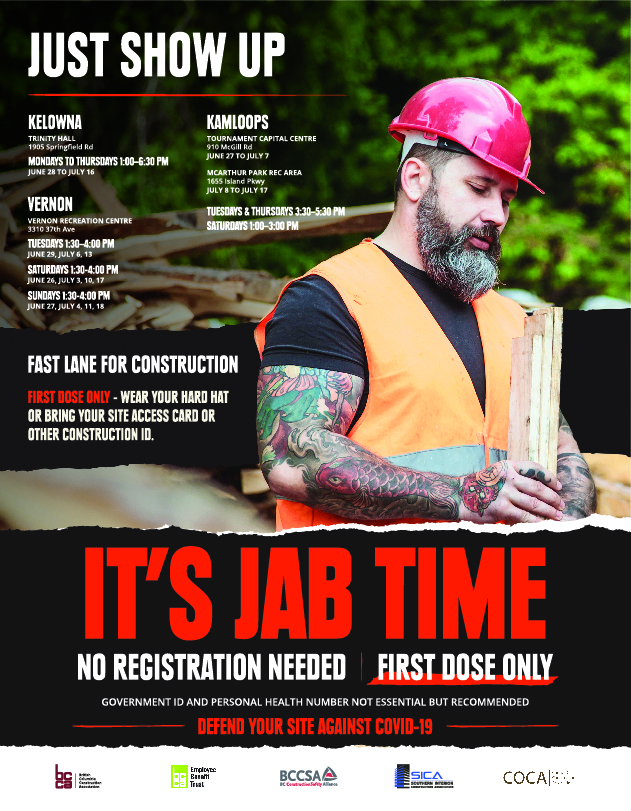 PROVIDED IN PARTNERSHIP WITH: